Modernising an old property can be a big step. Balancing the owner's taste and vision for the property with the interior designer's style for the property was the next challenge. See the article below first published in houseandgarden.co.uk to see the amazing tasteful results!
"It did not look like a match made in heaven: two people with diametrically opposed tastes. And how risky, when the two people are the owner of a house and the interior designer hired to work on it. 'Thank goodness I didn't have my website back then,' says designer Rita Konig when discussing the house in New York. 'She might have taken a look and gone, "This isn't for me."' Rita is a self-professed lover of 'clutter and pattern', but the American owner, a documentary film-maker, describes herself as 'a clean-lined minimalist'. Her parents are Scottish and Danish and she grew up with elegantly spare Scandinavian furniture. 'Beautiful to look at, but not very comfortable,' she admits.
The pair first met through the English writer Plum Sykes, who was then working for American Vogue, before working together on the house bit by bit for nearly a decade. 'It is often more fun to work with someone whose style is completely different to your own,' says Rita. 'It's the people who say, "I love your style" who often don't really know what they want. Also, they probably don't really like your style and are just too embarrassed to say no.'
This owner found saying 'no' easy. She has very definite taste, but just did not have the time, patience, furniture or inclination to sort out the interior of her 420-square-metre home in New York's Greenwich Village. She, her husband and their three children had relocated in 2007 from a smaller apartment nearby and she admits to having been totally flummoxed by the scale of her new place. 'I was very tempted to just fill it with a lot of spare leather furniture,' she jokes.
It was love at first sight when she saw the house – a classic 1899 four-storey brownstone that was only on the market for a day before she and her husband snapped it up. It is built like a giant layer cake with two bedroom floors (the children are at the top of the house and the adults a floor below) and two living floors (the high-ceilinged sitting room floor with its three giant windows and underneath that a spacious kitchen-living space that opens onto the garden at the back). For the owner, the important thing about the house is how it makes her feel – 'like living in a country house'. The sitting-room windows look out onto a verdant south-facing garden, which is 'very serene and quiet. You don't feel like you are in New York'.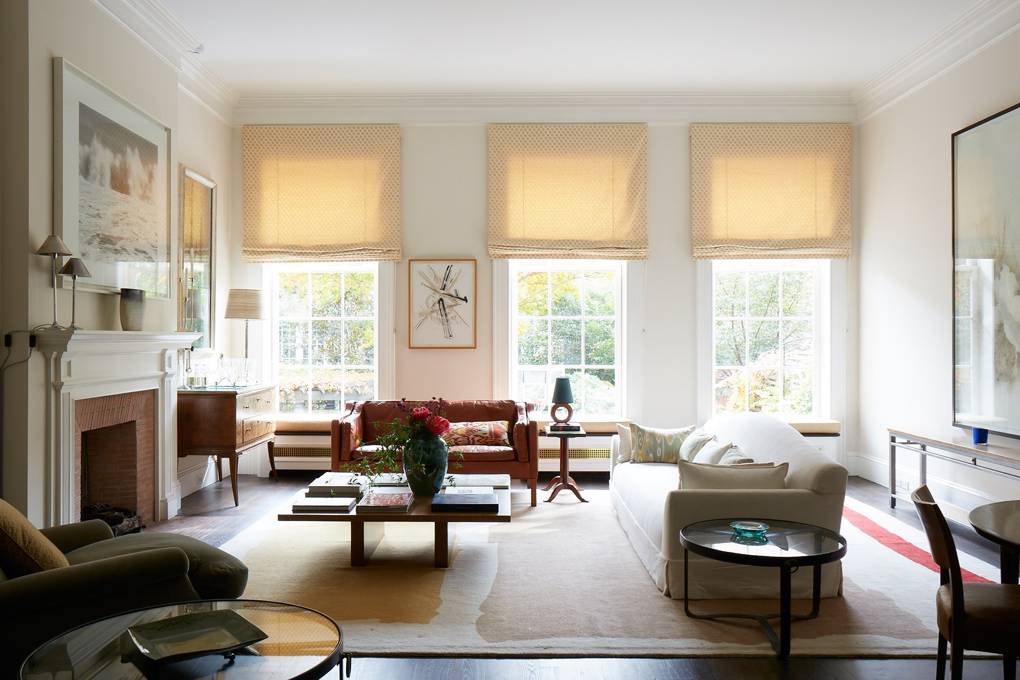 The previous owners were French and had impeccable – if somewhat formal – taste. The current owner, who grew up in France, admired their style and also the structural changes they had made, such as the slim spiralling staircase, arched windows and hand-painted beams in the kitchen-living space. In many areas, like the kitchen and the main bathroom, she did not feel the need to change much, if anything. But she knew that she needed help buying furniture and pulling the interior together.
When Rita arrived, she immediately found the interior plan verging on stark. The owner had warned her that she did not want pattern, but Rita thought this was negotiable. To soften up the austere main bedroom, with its grey faux panelling, she upholstered the bed in a delicate two-tone Italian fabric by Idarica Gazzoni. The pattern is then repeated on a sheer window blind. The owner was pleasantly surprised. Emboldened, Rita introduced a mauve-grey Luke Irwin rug, which she describes as 'like a sky with streaked clouds that were dragged by a comb'. But the rest of the room is monochrome. Rita upholstered the chairs in simple grey linen, because, she says, 'I had used up my pattern ration at that point'.
To Rita, the sitting room is full of 'creamy, light deliciousness'. The three big picture windows are fabulous and she worked to enhance their presence. The heavy drapes the previous owners left behind were removed and replaced with dappled blinds in a Fortuny fabric. Window seats were added and the owner's red leather Danish sofa – a family heirloom – is positioned in front of them.
In the dining room on the ground floor, Rita had a console table built to match the Philippe Hurel 'Datcha' table, used as an extension to accommodate larger parties. Over the years, she has also honed in on French designs the owner might enjoy, filling one wall with drawings by French cartoonist Jean-Jacques Sempé and introducing her to art-deco modernist Jacques Adnet. Now almost every room in the house has several of his lights or tables.
The most special moment for Rita was the day the owner turned to her and said, 'I want something frillier'. Before she could change her mind, Rita quickly introduced the idea of lace sheets. 'She is definitely in touch with her inner luxury now,' she grins. The owner agrees that they have found a middle ground – one suspects they thrive on the quirks of their eccentric pairing. And so the project continues. Last year, a basement was dug to accommodate a bedroom suite for the owner's teenage daughter and a roof terrace is planned. 'If a house keeps changing with you, you keep it alive,' Rita says, adding with a chuckle, 'but if I had gone to her with all this at the beginning, she might have fainted'."